Welcome from the Principal
Welcome to the website of the Marpole Bilingual Montessori School in Vancouver, BC! We look forward to getting to know you and your family, and showing you our Bilingual (English and French) Educational program for children between the ages of 32 months and 6 years.
I'd like to commend you for taking on the difficult task of finding the right school for your child at such a critical point in their lives. We understand many of the challenges you're going through as we have helped many families with this decision in our over 35 year history. It can be hard to comprehend how early education will affect your child's long term development, but we know both from experience and extensive studies that 3-to-6 years of age are the most important in a child's development, especially with respect to learning new languages.
We are very proud of the proven programs that we have developed over our long history in Vancouver. We have incorporated the strongest elements of Montessori philosophy, a bilingual environment, traditional education and enrichment activities to provide the best possible education for our students. We have consistently seen how our programs have helped our graduates succeed academically and socially as they continue their education in both private and public schools, and eventually onto universities and colleges.
There are few things that we find more fulfilling than the feedback of both alumni and parents who share how vital their time was at Marpole Bilingual Montessori School. Many graduates share how their closest friends were made as a student at Marpole Bilingual Montessori School. Others share how they first discovered a passion for learning and the importance of contributing to their community. After graduation, parents will tell us how wonderful it is to see their children excelling in their new schools because they have self-confidence. Hearing these stories and feedback reinforces our confidence in our programs and our approach to early childhood bilingual education.
I encourage you to explore our website to learn more about our school. Please feel free to contact us so you can meet our staff and see what we have to offer.
I look forward to personally meeting you in the near future.
Kind Regards,
Mariam Karim, Principal Marpole Bilingual Montessori School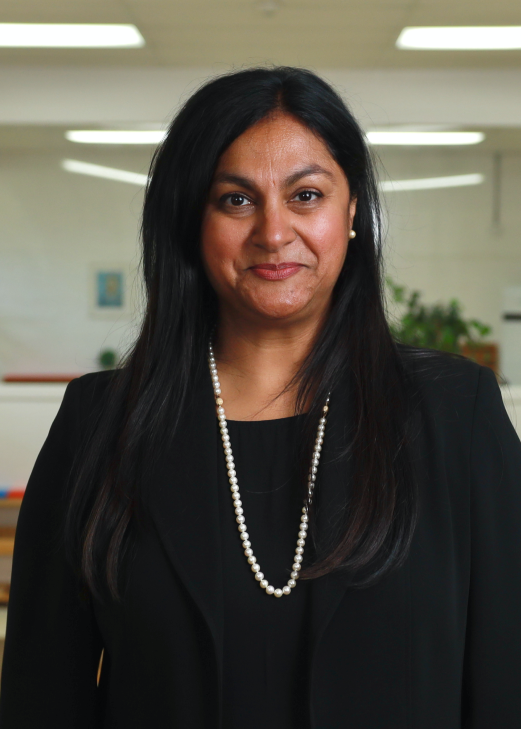 Marpole Bilingual Montessori was founded by Marie-Claire Rucquoy with one preschool classroom in Vancouver, BC.
The school's success prompted the addition of a second classroom, with class sizes reaching a peak of 20 students each. The overall capacity of the school grew to 80 students (40 in the two morning classes and 40 in the afternoon).
The school's supervisor and long-time teacher, Mariam Karim, purchased the school and took over as Principal.
The school now offers a Pre-School program, a Junior Kindergarten and a full day Kindergarten program. Under Mariam's loving leadership, Marpole Bilingual Montessori has consistently delivered an outstanding education focused on developing students' academic, social and individual skills.