Marpole Bilingual Montessori School's top priority is providing a safe learning environment for our students and staff. Our new protocols will prevent the transmission of Covid-19 during the current pandemic. According to the B.C Centre for Disease, children have a very low infection rate. Most children are not high risk for the Covid-19 infection.
No child or parent will arrive at MBMS with cold and flu symptoms. If you or your child are exhibiting cold and flu symptoms such as: fever, running nose, cough, shortness of breath or fatigue your child must stay home until a negative Covid-19 test can be provided.
No child or parent will arrive at MBMS if they have travelled outside the province of British Columbia. We will require children to quarantine for 2 weeks if they have been out of province or if a household member has returned from out of province and is quarantining in the child's home.
Temperature will be taken at arrival and checked hourly by the staff. If a child has a temperature of 38.0 C or higher, they will not be able to enter the school.
Children who develop a fever during class will be isolated with a teacher until they can be picked up.
Children will be required to clean their hands at arrival at the cleaning station and asked frequently to clean their hands throughout their class time.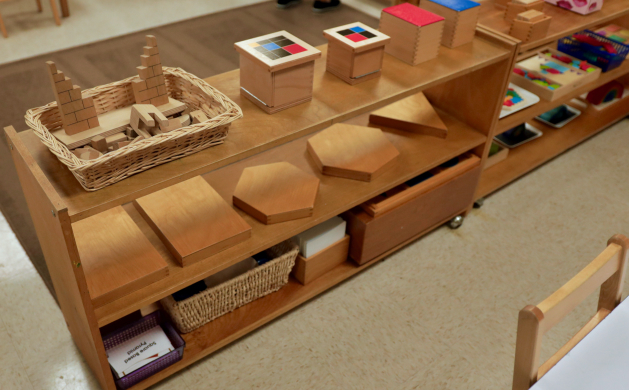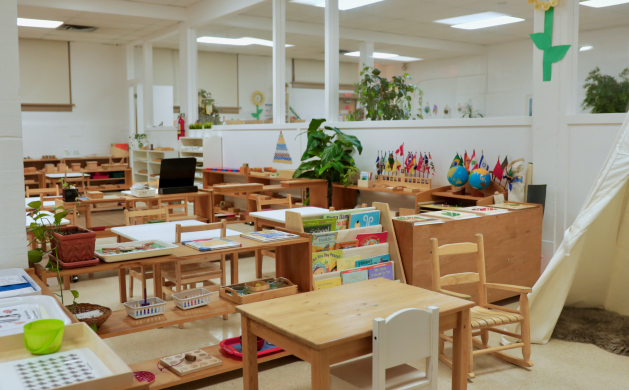 Children will not bring any personal items inside the school except for their snack/lunch bag and water bottle.
Pre-screening checklist completed at arrival
If you would like your child to wear a mask, please notify the teacher at arrival.
Children will leave their parent independently and walk to the teacher for hand sanitizing and temperature check.
At dismissal, parents will line up on the socially distanced stickers and the child will be released to you by the teacher.
At dismissal, children will sanitize their hands before walking out the door.
Physical Distancing and Minimizing Physical Contact:
The physical space requirements for licensed childcare settings set out in the Child Care Licensing Regulation mean that child care centres have sufficient space to support physical distancing (i.e., maintaining a distance of 2 metres between each other) between staff without reducing the number of children in care at any one time.
Staff will minimize the frequency of direct physical contact with children and encourage children to minimize physical contact with each other.
Staff will maintain physical distancing from one another.
Younger children will be supported to have minimized direct contact with one another, while older children will be supported to maintain physical distance whenever possible.
Children from the same household (e.g., siblings) do not need to maintain physical distance from each other.
We will be avoiding close greetings such as our handshake at arrival and dismissal as well as reminding children frequently "hands to yourselves"
Rigorous hand washing with plain soap and water is the single most effective way to reduce the spread of illness. Children and staff can pick up germs easily from anything they touch, and can spread those germs to objects, surfaces, food and people. Everyone should practice diligent hand hygiene.
All children and staff will clean their hands before entering the MBMS facility.
Hands will be washed hourly, after toileting, before and after eating, before and after using materials.
Children will be supervised and guided for all hand washing to ensure correct 20 second method is used.
Children will be provided with a personal hand sanitizer
Cleaning and Disinfecting:
Regular cleaning and disinfection are essential to preventing the transmission of COVID-19 from contaminated objects and surfaces.
General cleaning of the facility will be done once a day.
Frequently touched surface will be disinfected twice a day: doorknobs, light switches, faucets etc.
Cleaning of visibly dirty areas will be disinfected immediately.
The classrooms and its materials will be sprayed with Vital Clean by Orkin and Surgically Clean Air machines will be running at all times.
Tables, chairs, and activities will be disinfected frequently throughout the day.
Expectations for Parents:
Parents will arrive at the assigned time
Pre-screening checklist completed at arrival with teacher
Parents respect the social distanced line up, provided at each entrance.
Parents drop off child to the teacher outside, no parent can enter the classrooms or lobby. Children must come in independently.
Parents are to arrive on time, there will be NO admittance of late arrivals as the cleaning stations will no longer be available. Unfortunately, we will not be able to make any exceptions.
Should you require to speak with your child's teachers or principal, please email [email protected] to set up a meeting via Zoom or telephone. Teachers will not be available at arrival and dismissal for conversations.
Expectations of Children:
Children will be allowed in the building at assigned time.
Children will enter the building without their parents.
Children must sanitize hands when entering and exiting the building.
Children will not bring personal items inside such as toys, jewelry, fancy hair pieces.
All school materials stay at school. Each child will be provided with their own box containing felt pens, pencil crayons, crayons, pencil, eraser, pencil sharpener, ruler, scissors, glue, and hand sanitizer. No items will be shared with classmates.
No staff will enter the building with cold/flu symptoms
All staff will clean their hand before entering and exiting the building
All staff will have their temperature taken at arrival and must have a temperature below 38.0 C
Staff member who have travelled outside the province will self isolate for two weeks before returning to the school
All staff will adhere to the MBMS covid-19 policies as well as the protocols outlined by the BC CDC and Childcare Licensing.
Any additional questions about our COVID-19 response?